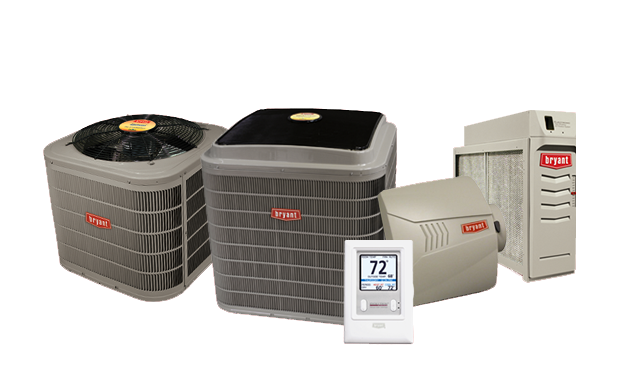 Stivers Heating and Air offers three unique Bryant central air conditioning units. Our top of the line system for total home air condition, the Evolution ® Central Air Conditioner delivers the ultimate in whole-home comfort. Holding our highest SEER rating, which ensures the finest in energy efficiency and performance, the Evolution Central Air Conditioner has been given the Consumer Digest Best Buy Rating. Not to be outdone, the Preferred ® Series Central Air Conditioner combined up to 15 SEER cooling efficiency  and quite, ultra-dependable performance for whole-house comfort. It's the smart choice if you're looking for an environmentally friendly model! Last, but certainly not least, is the Legacy ® Line Central Air Conditioner. A step in the right direction when you're looking to cut your utility bills, the Legacy Line offers up to a 14 SEER rating and delivers energy efficient whole-home comfort.
 For More Information Please Call (502) 459-6312
Stivers prides itself on keeping the air in your home as clean as possible.  The best way to do that is to eliminate the airborne pollutants with the Perfect  Air Purifier.  Ultra-reliable, this purifier works to capture and kill ™ dangerous bacteria, viruses and mold that you could be breathing in, safeguarding the air quality of your entire home.  Don't just run your air through a filter, re-purify it all as often as eight times and hour.  But don't forget about the Preferred Electronic Air Cleaner.  Hardworking to remove microscopic pollutants like dust and smoke more effectively than disposable air filter units, the Preferred Electronic Air Cleaner offers easy maintenance and washable filters to save you money on routine replacement.   We also offer the Preferred EZ Flex Cabinet Air Filter, designed to protect and improve your homes heating and cooling system.  With a MERV 10 efficiency rating, this air filter keeps your air flowing cleanly and efficiently. And don't forget about Bryant's UV Lamp, designed to attack and kill mold and bacteria that can grow in moist heating and cooling systems, and then circulate through your home. These UV lamps offer silent operation to improve your family's comfort and health.
 For More Information Please Call (502) 459-6312
Get the perfect combination of top-of-the-line performance with bottom-line energy savings with the Evolution System Plus 90i and 95 Gas Furnace from Bryant.  Its up to 96% AFUE, combined with our Evolution System Control, brings reliable, economical heating comfort straight into your home. Also in the Evolution line is the Evolution System Plus 80v Gas Furnace, making energy-wise comfort easier than ever.  With a simplified system control and an AFUE rating of up to 80%, it pays off in higher efficiency for lower energy bills and allows for more affordable home comfort.  With it's intuitive technology, the Preferred Gas Furnace for Smart Efficiency and Total Comfort is the smart choice for energy efficiency, bottom line savings and ultra-reliable performance.  The Preferred Gas Furnace features enhanced comfort features and an up to 93% AFUE rating.  And don't forget about the Bryant Legacy.  The Legacy Gas Furnace delivers an up to 95.5% AFUE rating for greater energy efficiency, lower cold-weather utility bills and guaranteed whole-home warmth and comfort.
 For More Information Please Call (502) 459-6312
The Evolution Series Heat Pump from Bryant is truly top of the line!  Ultra-high efficient the Evolution offers 18 SEER cooling and heating efficiency, plus 2-stage operation for to save energy and ensure comfort!  For reliable year-round comfort that's cost-effective, look no further than the Preferred Series Heat Pump. Delivering flexibility during any season, the Preferred Heat Pump promises total home comfort, with an up to 15 SEER rating to provide warm-weather cooling or cool-weather heating at a low-cost! The Legacy Line Heat Pump from Bryant provides affordable all-season comfort and energy savings, cooling your home in the summer with its up to 15 SEER rating and reversing when temperatures drop for low-cost electric heat.
 For More Information Please Call (502) 459-6312
For reliable humidity control that works with your furnace, turn to the Bypass Humidifier from Bryant.  Working as a value-add to your heating system, this model relies on your furnace blower to deliver moisture vapor throughout your home.  It's low-noise operation and reduced static add to whole-home comfort. The Fan-Powered Humidified Control delivers year-round comfort!  Directing just the right amount of moisture vapor into your furnace ducts, the Fan Powered Humidifier allows for greater whole-home comfort and less static electricity.  Quiet and energy efficient, it will make you feel right at home, anywhere!
 For More Information Please Call (502) 459-6312
 Simply home comfort with the Evolution Control.  This top of the line thermostat simplifies home comfort with 7-day programming.  Control temperature, humidity and air quality all week long with just the touch of a button.  Easy-read screens, multi-zone settings and optional remote access assured superior performance from this fool-proof model.  For the latest in slim, pleasing aesthetics for any room, turn to the Preferable Program Control!  Program your thermostat in a snap! Plus, this model comes with the option if an optional ExP memory card to plug into your computer's USB port to control, or open the face and use the easy-to-understand buttons.  Making touch and go simple, the Preferred Non-Programmable Control features only three simple buttons – home, away or sleep.  Tell your thermostat where you'll be and leave the rest to the machine to provide the best in energy savings around the clock!  If you're looking for total comfort from a thermostat programmed for top efficiency, look no further than the Zone Perfect Zone Control from Bryant.  The Zone Perfect allows you program control in seven day cycles, variable in up to eight zones!  Enjoy greater comfort and lower energy costs, all from a single source!  Or, keep your family comfortable with the Legacy Programmable Thermostat!  So simple to program, choose schedules for both the workweek and weekend, saving money on your energy bills!  Add a simple, yet attractive look to your home with the Legacy Non-Programmable Control.  At just over an inch in width, it's simple to use.  Your family's comfort is only a button click away!  Manage both Temperature and Humidity from s ingle source, the Legacy Zone Perfect 3-Zone Control!  Energy efficient, this thermostat regulates temperature and humidity in up to three zones, adjusting comfort levels to specific areas.
 For More Information Please Call (502) 459-6312